High Temperature Heat Resistant & Radiant Heat Reflective Dual-Coat Aluminum Film & Silicone Rubber Coated Fabric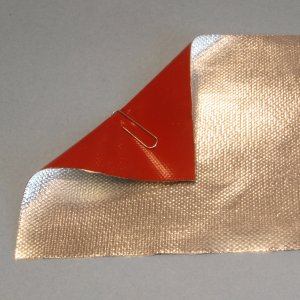 Dual-Coat Fabric: Aluminum Film Coated on one side and Silicone Rubber Coated on reverse side
This high temperature, heat resistant aluminum film and silicone rubber Dual-Coat fabric reflects radiant heat and also minimizes absorption of fluids and contamination.

Used for a variety of shields and guards and in the construction of bellows for protection of hydraulic cylinders.

This heat reflective fabric reflects 95% or more of the radiant heat that contacts its surface. Constructed from a high-temperature base fiberglass fabric which is then coated with aluminum film on one side and silicone rubber on the reverse side.

Part Number F-FG-ALF-SR
Fiberglass Base with Aluminum Foil Coating