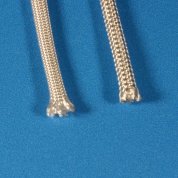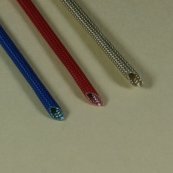 High-Temperature
Braided Fiberglass Sleeve: With Binders (Anti-Fray)
High-Temperature
Braided Fiberglass Sleeve: Plain & Heat Treated
Very High Temperature Fiberglass Sleeve: Small Diameter for
Wire protection: Plain and Coated
This is a high-strength, high-temperature fibreglass sleeve produced from either S-Glass or E-Glass. S-Glass, which in addition to enhanced dielectric and mechanical properties, provides thermal protection beyond the limits of conventional E-glass fibers. S-Glass is free of boron and will not decompose to form gaseous products with nuclear radiation exposure. Also available heat treated; with Acrylic resin or Oleoresinous binder. Both heat treated and with binders reduces fray and makes cutting easier.

This high temperature sleeve is heat and flame resistant, that will not burn and will withstand continuous exposure to temperatures of 1000°F / 520°C. It provides excellent protection for industrial wires, cables, hoses (hydraulics), tube and pipes and also provides thermal insulation and personnel protection.

This high temperature sleeve / heat resistant sleeve resists most acids and alkalis and is unaffected by most bleaches and solvents. It is highly flexible and conformable.


Part Numbers
S-SFG
S-EFG