High Temperature Removable Blankets and
Insulation for Engines & Generators

For Exhaust System Components: Mufflers & Silencers,
Turbo-Chargers, Flanges & Pipes

· Meets MIL-I-24222, USCG 164.009, ASTM E84 and UL 2200
---
Custom fabricated removable insulation blanket systems for engine and generator exhaust components such as mufflers, turbo-chargers and pipe feature high temperature capability, reduction of thermal radiation and convection within the engine room and sound reduction. Used for marine powerplants & generators and stationary backup power systems for industrial, commercial and municipal installations.

A thick needled fiberglass or silica insulation is mechanically supported by a stainless steel or inconel mesh and an outer fabric of either silicone rubber coated fiberglass, aluminized fiberglass or silica. Fiberglass is suitable for most non-turbocharged reciprocating engines. Silica may be required for turbo-charged engines and is required for gas turbine engine applications.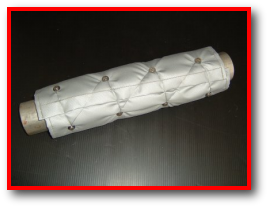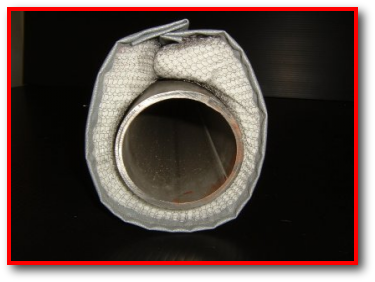 Needled Insulation between outer layer of silicone fabric and inner layer of stainless steel mesh
A
B
Stainless steel support mesh
C
Silicone Rubber Coated or Aluminized Fiberglass outer fabric layer
The insulation material used meets MIL-I-24244 for low corrosiveness and also meets
US Coast Guard 164.009 for incombustible materials
.
Removable blanket sections are assembled with either locking wire or spring clips with stainless hook fasteners or mushroom cap rivits mounted on the fabrics.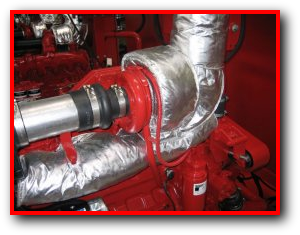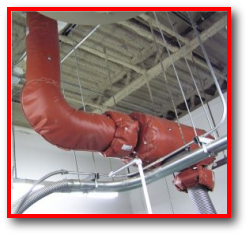 Industrial Generator Removable Exhaust Insulation Blankets & Covers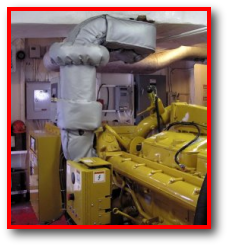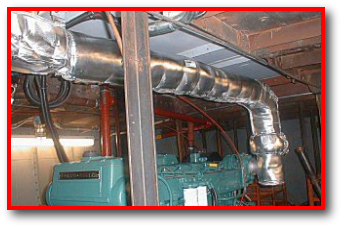 Marine Engine & Generator Exhaust System & Piping Covers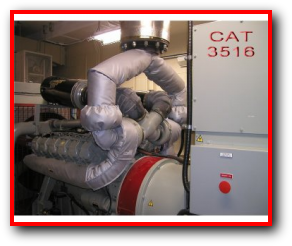 We maintain drawing sets for most major brands using standard configuration components. For models not on file all we need is a table of dimensions for the components you need covered, or a hand drawn sketch, or if available a CAD drawing or blueprint. A photo of the installation helps if available.

Fabrication time is typically 1 week to 2 weeks after receipt of your order.
A

B

C