2300°F / 1260°C CerMax™ Extreme High Temperature Heat & Flame Resistant Ceramic Fiber Sleeve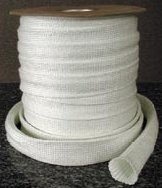 This extreme high temperature, heat & flame resistant ceramic fiber braided sleeve is an excellent replacement to asbestos sleeves or wrapping tape. This sleeve provides thermal insulation and protection for industrial wires, cables, hoses (hydraulics), tubes and pipes.

Highly durable and extremely flexible and has very low shrink when heated. A specialty coating provides excellent abrasion protection and adds to the tensile strength.

Can be used at 2300°F / 1260°C continuously.

Can be layered with other materials for enhanced insulation protection.



Part Number S-C-B