High Temperature Heat and Chemical Resistant PTFE Envelope Flange Gaskets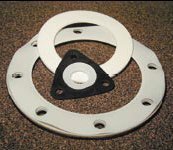 Flange Gaskets
These PTFE envelope gaskets are available in three standard envelope styles and with almost any combination of filler materials.

Fillers and envelopes are available seperately for customer assembly.

Style 110: A slit or V-type envelope

Style 115: Machined or milled center envelope

Style 100: A form shield envelope fopr use where large ID, OD or oval shape
openings cannot be satisfied by a slit or milled type envelope.