Firesleeve: Aerospace AS1072 Hose Protection
High Temperature Silicone Rubber Coated Fiberglass Sleeve
Aerospace Firesleeve
SAE AS1072 Fire Sleeve is fabricated from a thicker and denser braided fiberglass yarn.

Firesleeve is available in sizes ranging from 0.25" Inside Diameter through 5" I.D. in 125 size steps.

Used in many applications; as an industrial firesleeve, marine firesleeve and aerospace firesleeve.
Silicone Rubber Coated Fiberglass Firesleeve Withstands 500°F/260°C continuous exposure; Molten Splash at 2200°F/1205°C for periods up to 15 minutes and short excursions to 3000°F/1650°C.
Molten metals simply slide off of the extra heavy duty coating of High-Temperature Silicone Rubber on all of these firesleeve products, providing excellent burn-through protection.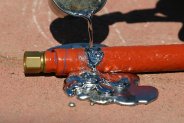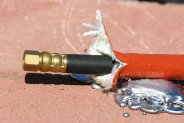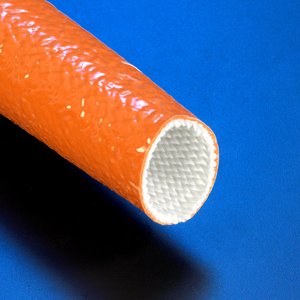 This aviation grade / aerospace grade high temperature, heat & flame resistant firesleeve is manufactured to AS1072 standards so it can pass the fire testing standards of AS1055D; and the requirements of FAA TSO - C53a and TSO - C75.

It may be used for all fuel, oil, hydraulic, fire extinguisher and prop feathering lines. "Fire-proof" hose lines, as defined by the FAA, must withstand a direct flame for fifteen minutes under specified flow conditions without failure. Fire-resistant lines must withstand a 5 minute exposure under these conditions.

Fire-proof hose lines are obtained when the proper size Firesleeve is selected and properly assembled with appropriate clamps.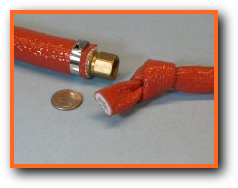 Firesleeve is highly flexible
and conformable.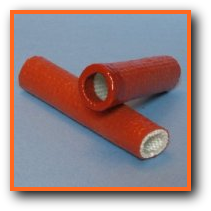 Firesleeve ends can be dipped in our SleeveSeal liquid silicone rubber end seal to prevent wicking of liquids and contamination.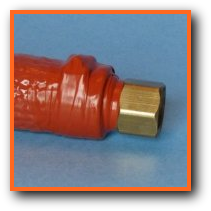 SleeveSeal tape can be used to seal the ends of sleeve at the connector for a watertight seal. Also protects the clamp if used.
Substrate Technical Specifications
Fiber Type: E Glass
Specific Gravity: 2.54-2.69
Breaking Tenacity: 1.71 gf/TEX. Std. 1.71 gf/TEX Wet
Effect of Heat: Will not burn; Retains 75% tensile at 343°C / 649°F;
Softens at 732-877°C / 1349-1610°F-; Melts at 1121-1182°C / 2049- 2159°F
Tensile Strength: 450,000-500,000 psi.
Effect of Acids and Alkalis;
Resistance to acids is fair.
Good resistance to most alkalis.
Breaking Elongation: 4.81% Std. 4.81% Wet
Elastic Recovery: 100%
Effect of Bleaches and Solvents: Unaffected
Average Stiffness: 2824.3 cn/TEX
Silicone Rubber Technical Specifications
Durometer, Shore A: Initial; 35 Aged 240 hours @ 200°C; 45
Tensile Strength (psi): Initial; 875 Aged 240 hours @ 200°C; 800
Elongation %: Initial; 500 Aged 240 hours @ 200°C; 200
Flammability, UL94; V-1
Dielectric Strength (volts/mil); 485

Coating Thickness
AS1072 Specification: Minimum: .03" (0.8mm)
Nominal average measured 10 locations over 12" length: .05"

Fluid Resistance
Phosphate Ester hydraulic fluids
MIL-H-5606 hydraulic fluid
MIL-T-5624 Jet Fuel
MIL-L-6082 lubricating oil
MIL-L-7808 lubricating oil
MIL-L-23699 lubricating oil
MIL-H-83282 hydraulic fluid