Aviation High Temperature Silicone Rubber Self-Fusing Tape
meeting Airframe Manufacturer Specifications and also
A-A-59163, MIL-I-46852, MIL-I-22444 Specifications
· Boeing DMS2186 Type I & Type II · General Dynamics Specification P5384

· Lockheed Martin Space Systems 5-00857 & 5-00615 · Lockheed Martin MMSJ517 Type I & Type II

· Lockheed Martin P5189 · Lockheed Martin 6084744

· Rockwell International STO130RB0078 Type I & Type II

· FAR 25.853 Horizontal/Vertical Burn Limits

· Rohr Goodrich Aerostructures RMS315 Type I, Type II & Type III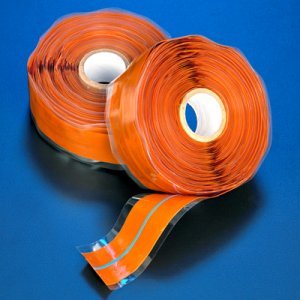 Part Number T-SR
High Temperature Silicone Rubber End-Wrap Compression Tape is the perfect choice for protecting hydraulic hoses and lines, pneumatic lines, fuel & oil lines, brake lines, wires and cables from exposure to high and extreme heat conditions.

The special formulation of silicone rubber sheds molten metals, slag, welding splatter, electrical or grinding sparks and contamination. End Wrap Tape also provides protection from ozone, UV and abrasion.

The Type II tape has a blue stripe running down the centre as an aid to performing a standard 50% overlap when wrapping the tape around firesleeve, wire, hoses and cables.

Silicone End Wrap Tape is self bonding to itself and our silicone rubber coated sleeves and tapes, providing a waterproof/gas tight end to the installation of Sleeve over hoses and cables.

This tape is available in 1" and 1 1/2" widths, with 36 feet of tape per roll. The tape is mounted on a backing film for easy unwinding.

Most of these tapes also meet specification A-A-59163 and MIL-I-46852 Type I or Type II by default.