Small Diameter Firesleeve For AWG Wire Protection:
High Temperature Silicone Rubber Coated Fiberglass Sleeve
Small diameter precision Firesleeve (sometimes spelled fire sleeve or fire-sleeve) is most commonly used to protect small wires and cable, small pneumatic and hydraulic lines from exposure to high and extreme heat conditions. The special formulation of silicone rubber sheds molten metals, slag, welding splatter, electrical or grinding sparks and contamination. Firesleeve also provides protection from ozone, UV and abrasion.


Silicone Rubber Coated Fiberglass Withstands 500°F/260°C continuous exposure; Molten Splash at 2200°F/1205°C for periods up to 15 minutes and short
excursions to 3000°F/1650°C.
Molten metals simply slide off of the extra heavy duty coating of High-Temperature Silicone Rubber on all of these firesleeve products, providing excellent burn-through protection.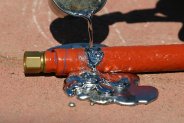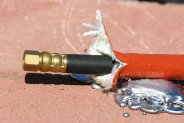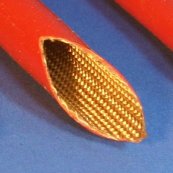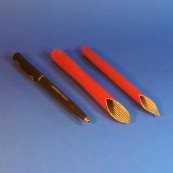 Thinwall small diameter firesleeve

Part Number S-FS-SD