Very High Temperature Heat Resistant Braided Fiberglass Sleeve
Industrial Grade
Industrial Grade Braided Sleeve
High temperature, heat, flame and fire resistant fiberglass braided (fibreglass or glassfibre) sleeve provides thermal insulation and protection of industrial wire, cable and hose (hydraulics), along with providing personnel protection from high temperature pipes, lines, and hoses.

Available in Thin Wall (1/16") and Thick Wall (1/8").

Industrial Grade sleeve has the same dimension as Premium Grade, but is a less dense braiding.

Braided fiberglass sleeving is fabricated from high quality type E fiberglass that will not burn and will withstand continuous exposure to temperatures of 1000°F / 520°C. This material resists most acids and alkalis and is unaffected by most bleaches and solvents. It is highly flexible and conformable. The base fiber is manufactured to the specifications of ASTM D-578, ASTM committee D13, and subcommittee D13.18.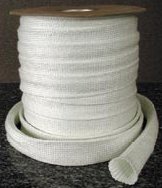 Part Number S-FG-BI