Part Number
T-FG-SA-19166
392°F / 200°C Continuous Exposure: Higher Intermittent
FlameShieldä High Temperature Fiberglass Fine-Weave
Woven Tape: Heat, Flame & Fire Resistant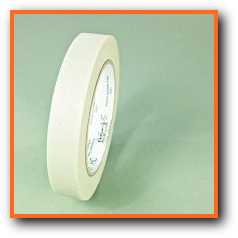 This high temperature tape is heat, flame and fire resistant. Fiberglass (fibreglass or glass-fibre) fine-weave woven tape with silicone adhesive.

· 3000 volt dielectric strength.
· .007" (.177mm) thick.
· Tensile strength of 180 lbs/in (314 N/10mm).
· Elongation at break 5%,
· Adhesion 40oz/in (4.4N/10mm),
· Insulation 4.8x104 megohms.
· Maximum operating temperature is 200°C / 392°F.
· Tape is 3/4" wide x 66 feet (19mm x 20.1m).
· UL recognized and meets Mil-I-19166C.

Smooth, excellent adhesion, high temperature use, insulation class "H".

This tape is used to provide reinforcing insulation in electrical installations. Used on splices requiring more abrasion resistance and mechanical strength than can be provided by silicone tapes.

Extensively used in aviation.

Shelf life is guaranteed for 1-year from issue of Certificate of Compliance. Tape can be inspected and re-certified for additional shelf-life.
High Temperature
Fiberglass Fine-Weave Tape
with silicone adhesive