High Temperature, Heat, Flame Resistant and Thermal Insulating
Fiberglass Fabrics:
This is a high temperature, heat and flame resistant thermal insulating fiberglass (fibreglass or glassfibre) fabric fabricated from high quality type E fiberglass that will not burn and will withstand continuous exposure to temperatures of 1000°F / 520°C. It is used to protect equipment, wires, cables, hoses, tubing and pipes. This high temperature fabric provides thermal insulation and personnel protection.

These high temperature fabrics are often used to fabricate insulated equipment covers, welding curtains and blankets.

This material resists most acids and alkalis and is unaffected by most bleaches and solvents. It is highly flexible and conformable.

The base fiber is manufactured to the specifications of ASTM D-578, ASTM committee D13, and subcommittee D13.18.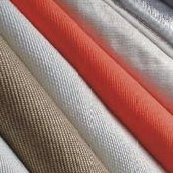 DeltaGlassä 1000
High-Temperature Fabric
Benefits of our High-Temperature Fiberglass Heat Protection Products

Fiberglass offers excellent heat resistance, retaining more than half of its room temperature tensile strength at 675°F / 357°C, and more than 25% at 875°F / 468°C. It begins to soften at 1500°F / 815°C and melts near 2050°F / 1121°C. Non-combustible and excellent thermal conductivity to dissipate hot spots; high resistance to chemicals and unaffected by UV light.
Available in the following finishes:
- Plain
- Heat Treated
- Vermiculite Coated,
- PTFE (teflon) Coated
- Aluminum Foil Coated one side
- PSA (Pressure Sensitive Adhesive).

Part Number F-FG-P